Production Team - Jeff Gregory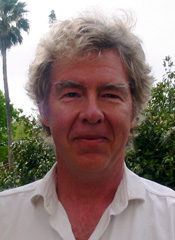 Jeff Gregory is pleased to return to his hometown as the Stage Manager of "Primal Twang". Jeff currently resides in the San Francisco Bay area and has been active in the theatre and musical scene there for more than two decades.
Jeff first met Anthony Adams when he was performing the role of Friedrich in "The Sound of Music" at Starlight Opera. The production was directed by Anthony's father, Dr. William J. Adams, and also starred Jack Montgomery in the role of Rolf. Dr. Adams pointed out to Jeff that he and Anthony both attended Einstein Junior High where they later became friends. To this day have maintained their friendship and have collaborated on a number of theatrical and musical projects
Jeff has been the Production Manager and or Technical Director of a number of prominent theatres in San Francisco including the Cowell Theater, the Waterfront Theatre and the Alcazar Theatre. He was the Stage Manager for George Coates Performance Works, as well as "Reaching Out" - a PBS special that was hosted by Ram Dass that included special appearances by Peter Gabriel, Arlo Guthrie, Bob Weir, and Wavy Gravy. He has also been the Stage Manager for the San Francisco Ethnic Dance Festival, Theatre Flamenco and Ballet Celeste International.
Jeff also has an extensive background in Sound Design and audio production. He was the primary sound engineer at Yoshis Jazz club in Oakland and had the pleasure of engineering sound for Branford Marsalis and the Tonight Show Band, Pete Escovido, McCoy Tyner, Pharoh Sanders, Les McCann & Eddie Harris, Joe Pass, Charlie Haden, Mose Allison, Tony Williams, The Brecker Brothers, Benny Carter, and Mike Stern.
Jeff is very pleased to be working on this wonderful guitar creation of Anthony Adams and Dan Crary and has been inspired to spend more time playing his favorite Taylor guitar.