Players - Mason Williams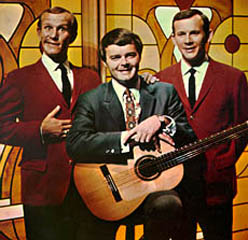 Mason Williams emerged in the late 1960's as a strong force in television and music circles. He is most widely known as composer and recording artist of mega hit Classical Gas, which won three Grammy Awards for: "Best Instrumental Composition", "Best Instrumental Performance", and "Best Instrumental Orchestra Arrangement" (Mike Post, arranger).
In 1998, Broadcast Music, Inc., (BMI), presented Mason with a Special Citation of Achievement in recognition of the great national and international popularity of Classical Gas. It has logged over three million broadcast performances to become the number one all time instrumental composition for air play in BMI's repertoire, replacing the previous #1 tune, The Theme From Moulin Rouge, by Michel Legrande, released in 1953.
In 1987, Mason teamed up with Mannheim Steamroller to release an album on the American Gramaphone label titled CLASSICAL GAS, a cut from this album, Country Idyll, was a Grammy Nominee for "Best Country Instrumental Performance by a Soloist, Group or Orchestra." This album went Gold in 1991, and is now approaching Platinum.
In 1992 Mason released A GIFT OF SONG, an instrumental Christmas album featuring arrangements of traditional carols and original compositions. That same year, the Vanguard label released MUSIC 1968-1971, a compilation of cuts from his five Warner Bros. albums recorded in the late 60s, early 70s.
Under his own label, Skookum Records, Mason released EP 2003: MUSIC FOR THE EPICUREAN HARKENER, which has received a Grammy Nomination for Best Pop Instrumental Album.
Throughout the 70s, 80s and 90s, Mason created and performed concerts for band and orchestra; "SYMPHONIC BLUEGRASS" was performed with over 40 major symphonies. "OF TIME AND RIVERS FLOWING," a chronological river of music encompassing the realms of classical, folk, minstrel, gospel, jazz, country, pop, and contemporary rock. His "A GIFT OF SONG" Holiday Pops concerts featured music from his Christmas album and various community artists and choirs.
Recent honors include an Honorary Doctorate of Music from his Alma Mater, Oklahoma City University and in 2000, Mason was officially designated the Musician Laureate for the State of Oregon.
Mason's music has also made its way on-screen. It has been featured in several films including, The Story of Us, The Dish, Heartbreakers and Cheaper by the Dozen. On television, Classical Gas has been used in episodes of The Simpsons, Frasier and The Sopranos.
As for Mason's other creative work; television, books, and art, he has written more than 170 hours of network television. He was a prime creative force for CBS' controversial SMOTHERS BROTHERS COMEDY HOUR. He won an Emmy Award for the show and received three other Emmy Nominations as a comedy writer. Mason has also written and produced over a dozen books of prose, poetry, and music including THE MASON WILLIAMS READING MATTER, FLAVORS (Doubleday) and THEM POEMS (Parallel Press). Warner Bros. recently published a second edition of his music book, CLASSICAL GAS - THE MUSIC OF MASON WILLIAMS. As a conceptual artist, one of Mason works, "BUS" (1967), a life-sized photographic poster of a Greyhound Bus is in the permanent collection of New York City's Museum of Modern Art.