Players - Peter Sprague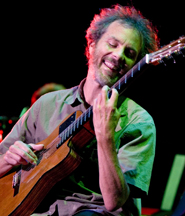 Over his thirty plus years as a professional musician, Peter Sprague has evolved into a musical powerhouse, having produced and or played on over 190 recordings. He has published eleven songbooks of his own music, including The Peter Sprague Guitar Technique which is required study at Grossmont College. In addition to writing his own material, Peter has transcribed 6 songbooks for Chick Corea, holds the title as Chick's official transcriber, and was the only musician entrusted as the arranger for Chick's legendary song Spain for the first GRP All Star Band recording.
Peter conducts the majority of his endeavors in Southern California, staying close to his family, and where he is without dispute San Diego's premier Jazz talent. His local achievements include; Best Local Musician - San Diego Reader's Best of 1988;Musician's Choice - San Diego Entertainer Magazine's Best of 1988; Best Pop Jazz Group (Blurring the Edges) - San Diego Music Awards 1994; Best Jazz Artist - San Diego Reader's Best of 2000 Poll; Best Mainstream Jazz Artist -San Diego Music Awards 2000; Best Jazz Artist - San Diego Reader's Best of 2003 Poll, and most recently he won Best Jazz at the 2004 San Diego Music Awards!
Though it is true Peter Sprague is a local phenomenon, make no mistake about it, he is a world class talent. Peter has played with such greats as; Art Pepper, Hubert Laws, Chick Corea, Alfonse Mouzon, Al Jarreau, Joe Farrell, John Pattuttuci, Mitch Foreman, Ray Brown, John Klemmer, Eddie Harris, Stanley Clarke, Eric Mariental, Joe Pass, Sergio Mendez, Kevyn Lettau, David Beniot, Peter Erskine, Bob Mintzer, Alex Acuna, and Charlie Haden.
A variety of artists come to his recording facility "Spragueland," to take advantage of Peter's excellent producing and engineering talents. The studio has a reputation for delivering distinctively crisp and well balanced recordings, always impeccably tailored to the music. Peter Sprague CD's have been produced there since 1994.
A generous musician who frequently showcases new talent, Peter always makes sure to bolster his accompaniment, and can often be found playing his heart out for worthy causes such as supporting the music program at his Alma Mater, San Dieguito Academy. In September 2004, Peter released the CD Friends to benefit the Escondido Humane Society.
Though Peter's roots are deep in bebop and Brazilian rhythms, he is prolific in many styles of music. His twenty minute piece, "Concerto for Two Guitars and Orchestra" was well received when he performed it live with the San Diego Symphony Orchestra in 2000. The program was called "Local Living Legends" which featured Peter Sprague and Grammy award winning Violinist, Mark O'Connor.
Whether exploring new territories of his original jazz music or revisiting popular tunes by beloved artists like the Beatles, Bob Marley, Cole Porter, and Charlie Parker, Peter Sprague's unique blend of inspired melodies and brilliant technical execution consistently enthuse and challenge the listener. You are again invited to take part in the relentless unfolding musicality of a special person, Peter Sprague.