Players - Abert Lee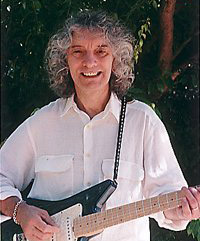 Albert Lee is undoubtedly one of the finest guitarists in the world. Voted Guitar Player Magazine's "Best Country Guitar Picker" five times, Albert received two consecutive nominations for a Grammy Award in the Best Instrumental category and won the 2002 Grammy for Best Country Instrumental Performance. He also received the coveted Gold Badge Award from The British Academy of Songwriters, Composers and Authors and was given a Lifetime Achievement Award by The British Country Music Association. Albert has earned the worldwide respect of fellow musicians and fans alike, across many styles of music. He is truly a musician's musician, with an impeccable pedigree achieved over many years' both touring and recording. Albert never ceases to amaze with his unique style and enormous talent. In November 2002 Albert was amongst other world class names appearing at the Royal Albert Hall in the 'Concert for George', a tribute to George Harrison.
Co-writer of Country Boy and writer of many other great songs, Albert's career extends to appearing and recording with many of the finest artistes in the music industry, including Glen Campbell, Dave Edmunds, Dolly Parton, Emmylou Harris, Joan Armatrading, Ricky Scaggs, Joe Cocker, Willie Nelson, Linda Ronstadt, Rodney Crowell, Vince Gill, Travis Tritt, Earl Scruggs, The Everly Brothers, Jackson Browne, and Bo Diddley. His most visible gig, however, was playing with Eric Clapton, first on Just One Night and then on the tour that followed. He has also played with Eddie Van Halen and Steve Morse in a super group called the Biff Baby All-Stars.
Albert is currently a popular member of Bill Wyman's Rhythm Kings, thrilling audiences with his playing and singing. He has fronted his own band Hogan's Heroes (a talented group of musicians in their own right) since the late eighties. Albert has five solo albums to his credit and two albums with Hogan's Heroes in addition to numerous albums with the artists mentioned above. His critically acclaimed country/rockabilly album, "Heartbreak Hotel," was released in 2003 as well as a retrospective compilation of his work, "That's All Right, Mama." A new release, "Road Runner," appeared in 2006.