Players - Dan Crary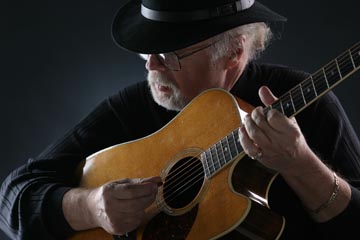 Dan Crary is a musical legend, a pioneer of one of the most intricate, yet powerful, forms of American music, and a master of the guitar; a flatpicking stylist with an international reputation for innovation, taste and brilliance. With over 40 years as a performer, Crary is one of the few artists whose work can be said to transcend the boundaries of style and genre.
A native of Kansas, his childhood interest in the guitar turned serious during Dan's early years in the late 1950s. His first musical performances in Midwestern churches established an enduring connection that continues to infuse his music with a spiritual dimension: "Call it God, call it divine, call it world spirit," he says. "You can't have an aesthetic experience unless you're in touch with something real about the world that we don't really understand." Building on this essential insight, he pursued the development of an approach to the steel string, flat-top guitar that explored new dimensions, transforming what had always been an instrument of accompaniment into one with a leading role, capable of fluent, expressive melodies and a variety of textures. In his travels around the United States, Crary learned and integrated traditional American styles and tunes, transforming them into strongly personal and creative works that are at once deeply rooted and freshly new.
A long and distinguished recording career, featuring solo projects and group efforts (especially with the award-winning ensemble California, active through most of the 1990s) plus many guest appearances, have brought Dan Crary acclaim as a versatile performer able to range from Mozart to Anglo-American fiddle tunes to moody, evocative original compositions. Nineteen ninety-four's Jammed If I Do, with guests Tony Rice, Doc Watson, Norman Blake, and Beppe Gambetta, was hailed as one of the decade's great gatherings of guitarists, while is 1992 solo album, Thunderation, won the National Association of Independent Record Distributors and Manufacturer's annual "Indie" award for "Best String Instrumental Album." Crary's 1997 release, Holiday Guitar, won 1998's "Indie" for "Best Seasonal Music" from the Association For Independent Music.
As a solo artist, Dan has created a performance style that blends traditional material from a variety of American sources with original compositions, vocals with instrumental showcases, all woven together with stories and observations that share his experience and insights with the audience. His ability to connect both musically and personally has brought him success not only in North America but throughout the world, with concert and workshop appearances everywhere from Europe to Japan and the South Pacific.
In a time when yesterday's stars are all too often today's unknowns, and genres are picked up and discarded quickly, it's a rare career that encompasses multiple styles and decades while remaining fresh and exciting. If consistency, creativity and longevity are hallmarks of artistic achievement, then Dan Crary must be recognized as one of the greatest traditional artists of our day.