Players - Anthony and Christina Adams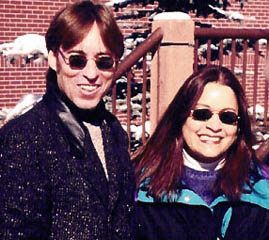 ADAMS ENTERTAINMENT was founded in 1995 by filmmakers Anthony Leigh Adams and Christina Adams as a production vehicle for independent films, documentaries, original music and theatrical events.
Anthony is a writer, director, producer and composer with credits in film, television, theatre and music. He is currently composing the score to the original musical, Carnival of Souls and collaborating on the book and lyrics with partner, Christina Adams. The production will feature an innovative fusion of theatre, film and music.
Anthony wrote, directed and produced the stage, film and DVD productions of Primal Twang: The Legacy of the Guitar, featuring an all-star ensemble of guitar greats, including Dan Crary and Grammy-winners, Eric Johnson, Albert Lee, Andrew York, Mason Williams, Doc Watson and Raul Malo. Christina produced and served as music supervisor and production designer for the stage and film productions. A DVD and broadcast version of the show was created from the live performances and is currently airing on PBS stations nationwide.
Anthony wrote the story and directed the stage, film and DVD productions of Love-In: A Musical Celebration, the second in Adams Entertainment's Stories In Song series. Christina wrote, produced and was the music supervisor on the project. The film, starring Tony Award-winner, Ben Vereen, and a cast of 1960's musical greats, is currently airing nationally on PBS stations. Anthony also composed the film's title song.
For television, Anthony and Christina have written over 30 episodes for such diverse series as Disney's Duck Tales, Jim Henson's Fragglerock and Universal's She Wolf of London. They wrote and produced the ABC movie, Badge of Betrayal, starring Harry Hamlin and the NBC movie, Murder or Memory, starring Emmy-winner, Leigh Taylor Young. They have developed a number of projects for studios and production companies including Disney, Tri-Star, Universal, Hearst Entertainment, Dick Clark Productions, ABC, CBS and NBC. For Disney, they wrote and developed the East Indian epic, The Ramayana, as an animated feature. After a limited theatrical release, Warner Brothers distributed the DVD of Anthony's feature film directing debut, Lost Lake, which also featured his original songs. Christina produced and co-wrote the script with Anthony. As a singer-songwriter who has performed throughout India and Europe, she's recorded several world music albums including the cult classic, Vrindaban, and is a featured performer on the soundtrack of Lost Lake.
Anthony is an accomplished playwright and composer who has directed several of his original musicals in London, San Diego and Honolulu, including An Eye In Each Head, The Adventures of Olig and Obster, A Song For Gar, The Living Cell and The Great Relativity Bomb Plot. He composed music for the national touring production of The Grapes Of Wrath, starring Ed Harris and toured as a multi-instrumentalist with the Harry Partch Ensemble.
Christina is currently working as the Music Clearance Supervisor on the new NBC series, Ready For Love, executive produced by Eva Longoria as well as the CBS series, The Amazing Race.